"Voyage upon life's sea, to yourself be true, and whatever your lot may be, paddle your own boat."  -Sarah Bolton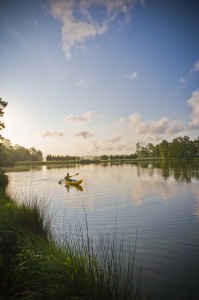 As we journey through life, many of us have attempted and failed to do what great poets and philosophers have advised for centuries: "paddle your own boat." Alas, life's unpredictable circumstances usually end up steering us instead. This is probably why the literal side of the saying has become one of the most popular past times for retirees in southeastern Brunswick County North Carolina.
On the Atlantic Ocean, Shallotte River, Mercer Mill Creek, Intracoastal Waterway, or local streams and lakes, the canoe and kayak are personal craft that envelope and embody the variant nature of both humans and water. Long before interstate highways, railway systems, or the Internet, exploration was first and foremost indulged with a paddle. Just ask the American Indian, Inuit fishermen of the Arctic, and Lewis and Clark as they mapped the amber waves of grain and purple mountains majesty.
Paddling is a voyage of discovery as you maneuver your canoe or kayak over the gentle waters of a glassy lake or stream, escape from a crowded day through winding creeks and marsh savannas, or push your way courageously through a spectacular set of waves and sea, streaking up and over a giant swell into the blue valley of the next great wave. It's just you and the water, experiencing the natural world the way it was meant to be…head-on.
Of course, you don't necessarily have to live on the coast to experience the ride.  But if you are fortunate enough to live in southeastern North Carolina, your choices for adventure are endless. Seawatch at Sunset Harbor, Rivers Edge, and Ocean Ridge Plantation all offer opportunities for you to enjoy the pure enjoyment of paddling. These impressive communities all offer the experience of kayaking or canoeing with several locations to launch your boat. If it's your first adventure, don't worry…there are boat rentals and guides available locally.
After all, paddling your own canoe or kayak is what it's all about and here on the coast. Plan your visit today and you may find an adventurous new pastime that you adore with health benefits.