Mark Saunders Luxury homes recently delivered several new homes as part of their new line, called the Signature Series. Homes designs were a result of numerous requests for more affordable construction options from Ocean Ridge homesite owners. "We are pleased to unveil the all new Signature Series Home Collection that is sure to meet today's market needs." said Burton Sydnor, General Manager of MSLH.  "With home prices starting at $309,400, this special collection is destined to strike a chord with buyers as we have combined the superior design and construction quality you demand with the most competitive pricing seen in our market", he later added.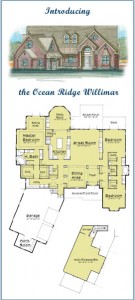 The Signature Series combines visually striking architecture, an impressive array of upscale amenities  and, best of all, an incredibly affordable value!
As one of the most highly regarded and award-winning builders in the area, Mark Saunders Luxury Homes is currently building eleven homes for families right here in Brunswick County. Having built over 750 of the finest coastal inspired homes over the past 26 years, there is no one more experienced to design and build in Ocean Ridge Plantation.
Signature Series home portfolios and home consultations are available upon request and by appointment at 800.556.6570.