We are delighted to highlight some of the recent progress in our premier waterfront community. Seawatch at Sunset Harbor has seen construction trucks rolling in many different areas of the community lately with some projects ending as others are just beginning. The roadway paving at the entrance to and in the lower portion of the Tidal Village of our Bendigo neighborhood is now complete with the upper section of this neighborhood to follow. The bidding process for infrastructure construction in the lower portion of the Hartley neighborhood has just recently been finalized and construction is slated next. With completed sections of the community, new houses under construction and ongoing development in additional neighborhoods continuing, Seawatch is a community you need to visit and see for yourself.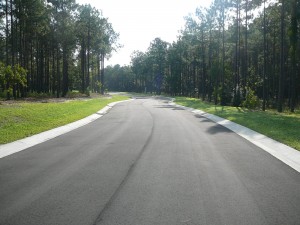 Another good example is taking place just behind the Seawatch Welcome Center on Highway 211 as the 30+ acre site of Seawatch's future coastal shopping village, The Market Place, undergoes preliminary site preparation for future construction.
If you have questions about the level of development in Seawatch or have any other questions please call our onsite team at 877.732.9282 or visit the Seawatch at Sunset Harbor website for more information and fill out the contact form to receive an information portfolio in the mail.